Motivations
What is the motivation for every fan to experience (live) sports. Why are fans the fans and why do they want to be a fan of their favorite club, player or brand. That is an important and interesting question. The answer to this makes it possible to to fine-tune the event with the expectations of the fans. This might increases the chance that fans will enjoy the (live) sport event, appreciate the event positively, talk about it in positive terms with others, share and possibly come back next time. Apart from the economic and social effects of (sports) events, this is something that many event organizers in the sports industry are keen on (Van Vliet).
It seems that the digital culture has changed, especially to connect with other fans and their club, top players or event organisation. However, the reasons why they are a fan of something or someone is mostly still the same (Dimensinal Innovation). That does not alter the fact that it is interesting to identify the motivation of each sports fan and look at the changes within the entire ecosystem.
To map out what drives many fans, we looked at 5 models / theories that deal with different factors that might influence (sports) fans motivation.
1. Canvas8
First of all, a method developed by Canvas8 that is well-established in future research known as environmental scanning – the process of identifying signals of change and grouping them under themes related to motivations. These motivations identified eight core trends that are influencing the future of sports fans. These trends are not conceived from the point of view of the sponsor or sports club, but from the fan. This is not about looking to the future, but about future mapping – providing a framework for those looking to align with fans for years to come.
Themes related to motivations by Canvas8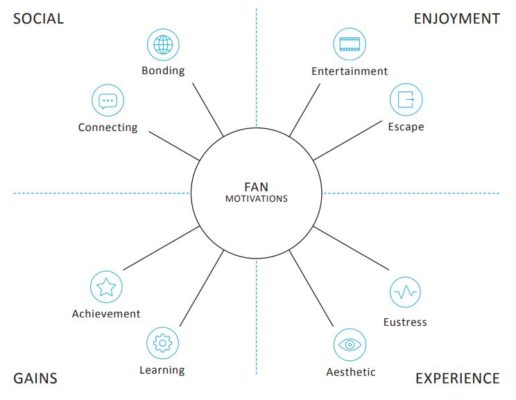 Social
Enjoyment
Gains
Experience
2. Sport Fan Motivation Scale (SFMS) by Wann
Secondly, main motivations to go to sporting events are for example categorized by the Sport Fan Motivation Scale (SFMS) of Wann: Eustress, Self-Esteem, Escape, Entertainment, Economic/betting, Aesthetics, group Affiliation and Family. These motivations have a relation with expected emotional responses.
Motivations by Dimensional Innovation
Economic/ betting
Group affliation
Family motives
Eustress
Self Esteem
Entertainment
Escape
Aesthetics
3. Dimensional Innovation
The 3th overview has been prepared by Dimensional Innovation and also consists of 8 trends that influence sports fans.
Connecting
Bonding
Entertainment
Escape
Achievement
learning

Aesthetics
4. Van Vliet
The 4th overview are 6 generic motivations of Van Vliet that seem to play a role for all events. He has partly inspired this based on the 4 values ​​of Rippen & Bos, which uses five "wheels" to create an experience at events. The first three "wheels" are in line with fan motivations. The fourth 'wheel' of animation mainly has to do with how the festival goes. The fifth "wheel" in the
Rippen & Bos's approach is the question of steering the activities and more specifically the role and participation of the visitors.
Generic motivations (for events, leisure and tourism) by Van Vliet
Socialization
Family togetherness
Learning
Escapism
Novelty
Significance
5. Uhrich and Benkenstein
Last, Uhrich and Benkenstein found four major stimuli for spectators to come to a stadium. They were stimuli induced by the (1) organizer, (2) the spectators, (3) game action and the(4) stadium architecture. Spectators come to consume the
live experience in a stadium environment because it stimulates all five senses, although they could easily stay at home and watch the game in high quality on a tv set (Lee in Groot). These are all stimuli that work inside the stadium with the match as the main content and product. With the fast emergence of digital technologies, the focus also shifts to the implementation of "integrated and unique journeys to remember" (Atos in Groot) .
Segmentations
Football fans differ in their perception, motives, wishes and behavior (KNVB). A fan is easy to spot, but it's almost impossible to describe the archetypal fan, because there are many factors at play – different sports, different demographics, different occasions (Canvas8).
Various studies have mapped out what 'kind' of fans there are. We mapped several examples and came up with our own classification.
KNVB
The KNVB is doing research on fan segmentation and has created 5 groups:
Fanatic followers
Escapism
Group of friends
Picky fans
Family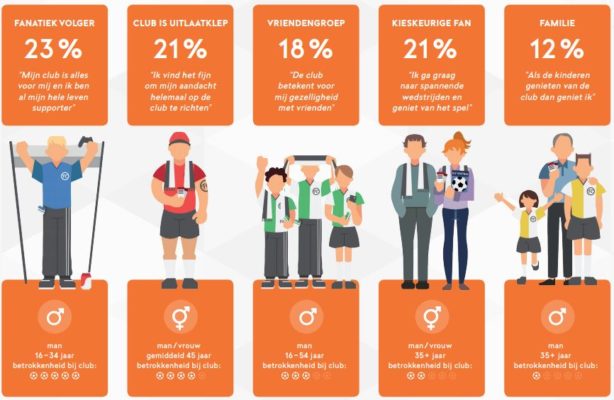 WANN
According to leading sports fan psychologist Dr. Daniel Wann, the most meaningful way to differentiate fans is by how much of a fan they are. Some are fans every day, others just once a year.

A key difference is that strongly identified fans treat sports as part of their identity – it's who they are. These fans believe they are a part of the team and exhibit a very strong emotional connection, reacting to events that happen to a player or team as if they happened to themselves. They feel good when they win, bad when they lose (Canvas8).
Deloitte
Deloitte breaks down 3 type fans:
Casual fans
Fans that love the game
Absolute fanatics
They came up with this 3 segmentation because survey respondents identify themselves with this 3 types (Deloitte).
Based on the motivations, the classification of Wann, Deloitte and the research into effect of experiential elements on the level of engagement (Groot), we are using in our creative sessions a mixed classification: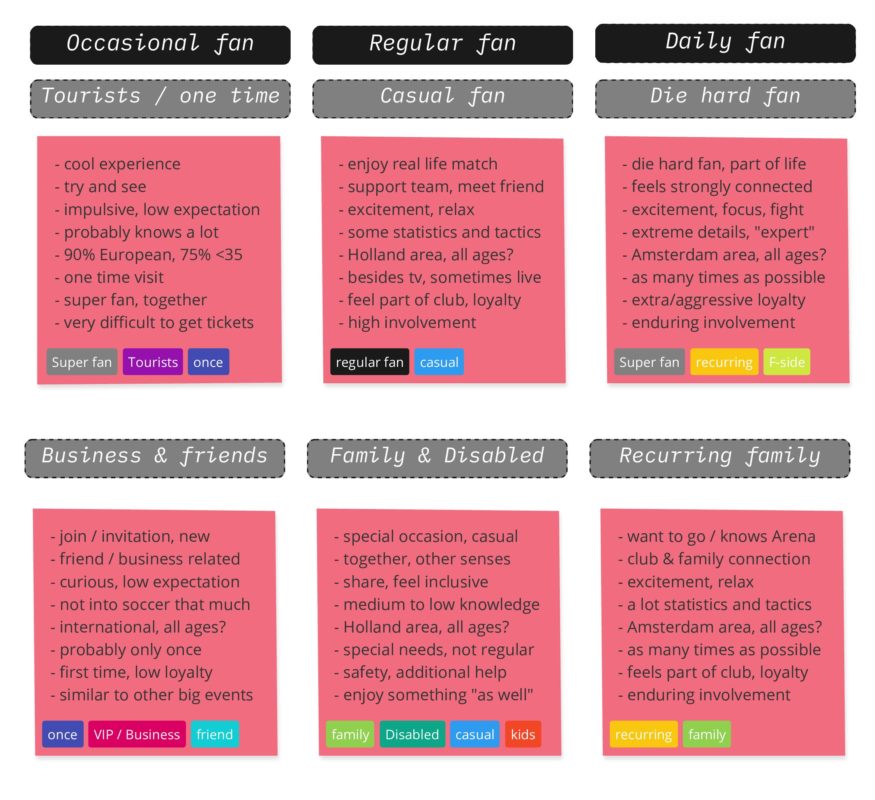 Occasional fan for tourist / one time
Occasional fan for business & friends
Regular fan for casual fan
Regular fan for family & disabled
Daily fan for Die hard fan
Daily fan for recurring family