The steps mentioned in the "How to" were followed during 5 creative sessions to optimally guide AION Sports in gathering insights in their current situation of services and products and whether they should optimise certain parts.
Methods used:
Experience Map – determining suitable phases and comparison with existing innovations
16 Service Factors – focussing on the characteristics of the service
Fan fragmentation – knowing the fan and their needs

Rope of Scope – combining and discussing insights

STOF & SSC – defining business aspects

Thema 21 Toolkit – defining specific goals

Defining a roadmap – result: 4 directions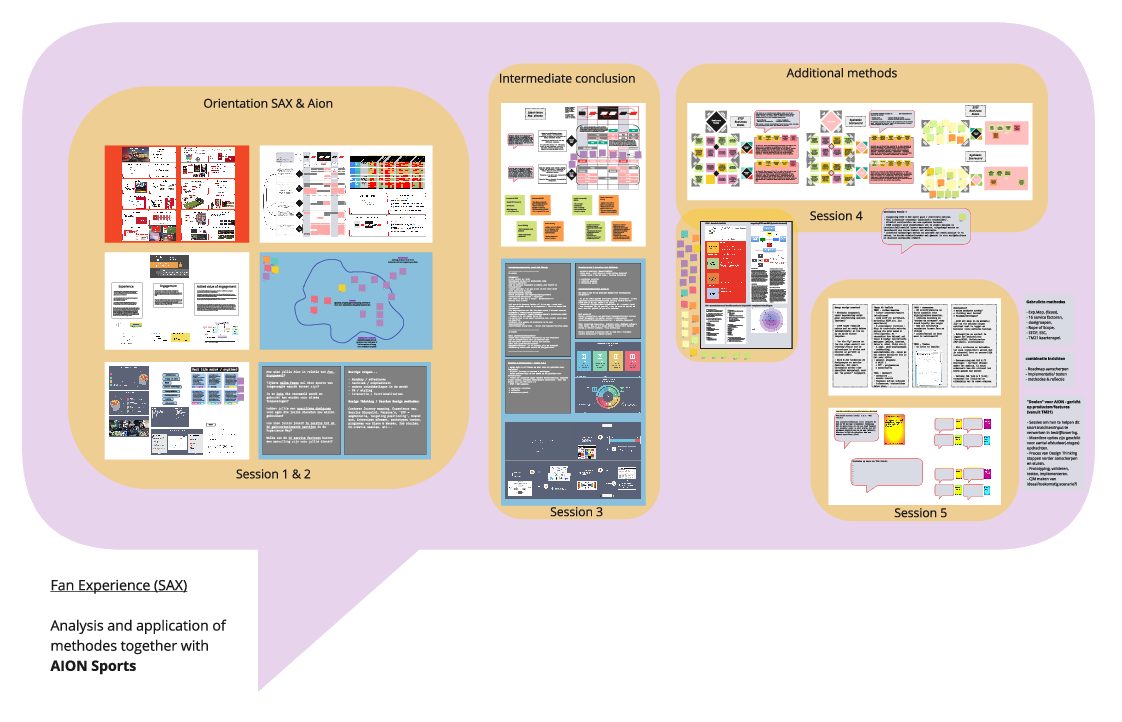 At the start, the combined Experience map of the 25 "Change the Game" Innovations and results of the 4 prototyping projects were used as benchmark to define where AION Sports would position itself among these technological and service oriented directions.
It was clear during sessions one and two that AION Sports already provides a combination of multiple innovations. Combined with determining which of the 16 service factors were present, and which targets groups should be focused on, there was even more proof that a solid technological en UX oriented approach was already present within the company.
Writing down these insights in the third session as a conclusion of these first methods, and discussing them in the Rope of Scope exercise, made it clear which elements were "in scope" or "out of scope", or somewhere in the middle due to technological challenges, other circumstantial limitations or because it was related to longer term development of their service and product.
The fourth session was needed to discuss possibilities and threats on a more higher level of the service. The methods STOF and SSC were filled out to illustrate clearly which elements were already present or needed improvement. Combining these notes with the benchmark of the 25 "Change the Game" Innovations proved for the second time that AION Sports had already quite some ingredients for creating a successful product, depending on what clients want or how fan would optimally experience possible aspects of involvement with their club, other fans, or get personalised information related to their needs.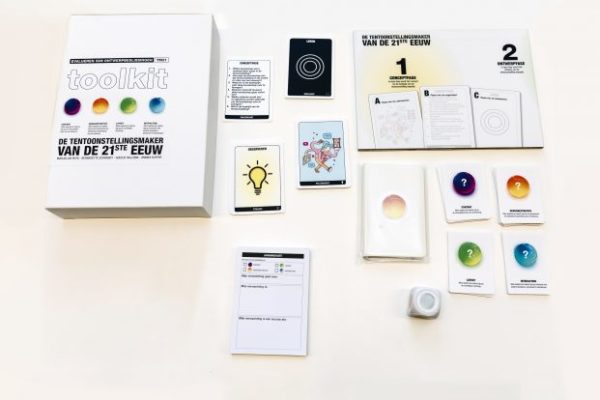 However, even if all the ingredients of a "perfect" service or product are present, the next step of development and implementation still needs guidance, or even preliminary research needs to be done to make sure this direction is what is "really needed". In the fifth session all these conclusions were drawn up and an additional toolkit called "Tentoonstellingsmakers van de 21e eeuw" (exhibition makers of the 21st century) AION Sport to clearly write down what several goals could be. This toolkit is quite extensive and would provide a vast amount of goals if more time would be spent.
The general conclusion of AION Sports was that all the used methods helped to structure their everyday process by taking the time to sit down and formulate their current situation and position within the field of fan engagement, big players and competitors. They said that some methods could be done without guidance, but the most valuable insights of the sessions were achieved by critically following all the steps together with the Lectoraat Crossmedia / Media & Innovation Space Amsterdam, which is part of the AUAS (Amsterdam University of Applied Sciences – Hogeschool van Amsterdam).
Next steps will be the prototyping and development phase including testing and iterating (as explained in the "How to") to create fitting solutions for specific fan segments in current projects.